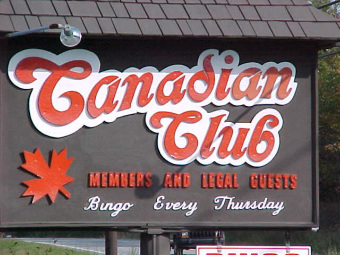 Welcome
The Canadian Club is a 1300 member social/civic organization located on the
East Montpelier Road in Barre Town. (on VT RT. 14 between Barre City and
East Montpelier) The club sits on approximately 50 acres of land. There is a main building, horseshoe pits, barbecue pit, and a gazebo. The club is renowned for its excellent meals and facilities for holding wedding receptions, anniversary parties, community events, annual meetings and dinners of various private and public organizations. There are monthly & some weekly functions for it's membership including dinners, cribbage league, and numerous pitch tournaments.




---
Updated Pages 02/03/2016:
Calendar & Membership Stuff
Here is a current Newsletter -
FEB_MARCH_2016_Newsletter
Club Hours:
Monday - Fridays, 3:00 - 11:00 p.m.
Saturdays, 1:00 - 11:00 p.m.
Sundays, 1:00 - 6:00 p.m.

Regular Pitch:

Every Tuesday Night @ 6:00 p.m.
5-9 Pitch:
Every Wednesday Night @ 6:00 p.m.
Line Dancing:
Every Tuesday Night at 6:15 p.m.
BINGO:
Every Thursday evenings. Come and enjoy the fun!
Doors open at 4p.m. Warm-ups 6p.m. Regular 7p.m.
Questions call Bernie Surprenant at (802) 865-9630
Meetings are conducted on every 3rd Wednesday of each month.
Directors - 5:30 p.m.
Membership - 6:30 p.m.